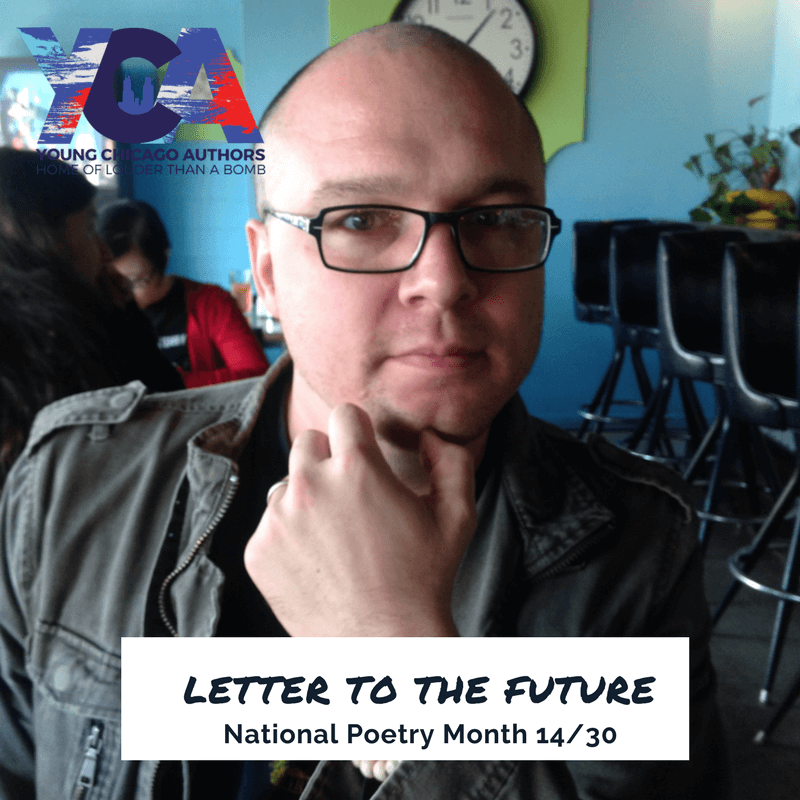 Hello YCA Fam,
April is National Poetry Month, and many poets choose to write one poem each day during April to celebrate the occasion. This year, we are going to be posting a writing prompt every day during April to help you with this writing challenge. Many of these prompts were developed by the YCA Artistic team for our weekly writing workshop, Check The Method. If you write poems to these prompts, share them on social media and tag us (@youngchiauthors on Twitter & @youngchicagoauthors on Instagram).
Here is prompt number 14, which uses a poem by Matthew Olzmann:

List:
People you love in the present day
Places you love in the present day
Sounds you love in the present day
Tastes you love in the present day
An animal you would miss immensely if it disappeared
Places you want to visit
Items you would want to show someone from the future
Things you think the history books will miss about the present day
Read:
Letter To Someone Living Fifty Years From Now by Matthew Olzmann
Most likely, you think we hated the elephant,
the golden toad, the thylacine and all variations
of whale harpooned or hacked into extinction.
It must seem like we sought to leave you nothing
but benzene, mercury, the stomachs
of seagulls rippled with jet fuel and plastic.
You probably doubt that we were capable of joy,
but I assure you we were.
We still had the night sky back then,
and like our ancestors, we admired
its illuminated doodles
of scorpion outlines and upside-down ladles.
Absolutely, there were some forests left!
Absolutely, we still had some lakes!
I'm saying, it wasn't all lead paint and sulfur dioxide.
There were bees back then, and they pollinated
a euphoria of flowers so we might
contemplate the great mysteries and finally ask,
"Hey guys, what's transcendence?"
And then all the bees were dead.
Prompt:
Write a poem to someone living in the future that contains the joy and sorrow and messiness of today.