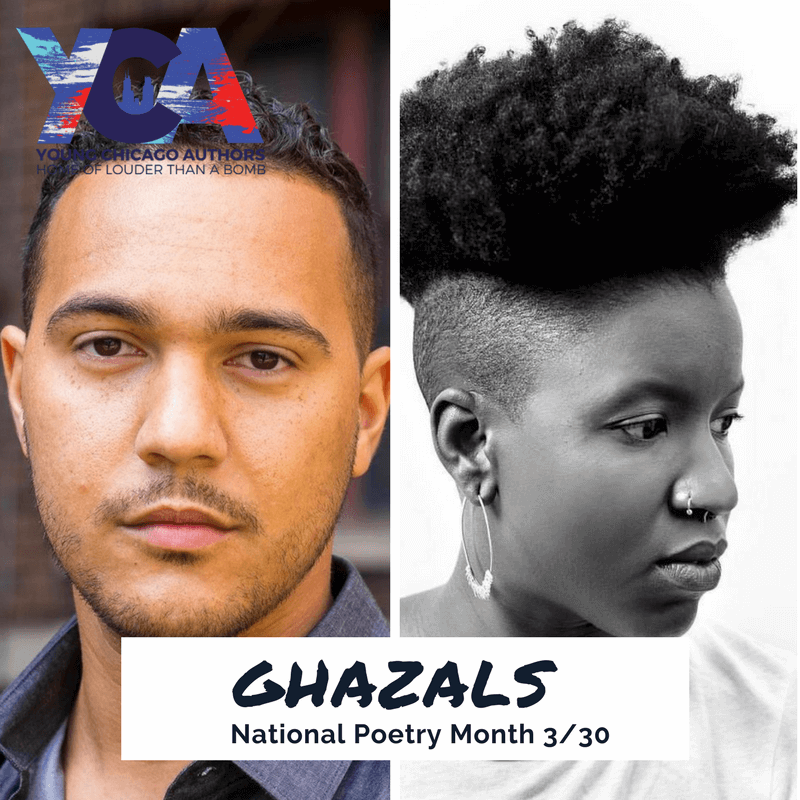 Hello YCA Fam,
April is National Poetry Month, and many poets choose to write one poem each day during April to celebrate the occasion. This year, we are going to be posting a writing prompt every day during April to help you with this writing challenge. Many of these prompts were developed by the YCA Artistic team for our weekly writing workshop, Check The Method. If you write poems to these prompts, share them on social media and tag us (@youngchiauthors on Twitter & @youngchicagoauthors on Instagram).
Here is prompt number 3, which uses a poem by Aaron Samuels and a poem by Angel Nafis.
Note:
A ghazal is a traditional Middle Eastern form of poetry that uses a repeated end rhyme.
List:
Words you often use in your poems or in daily conversation
Words you like the sound of
People who are important to you, choose one:
Objects/words/phrases that remind you of this person
Read:
Broken Ghazal in the Voice of my brother Jacob by Aaron Samuels
Irrefutable fact / my brother is black jewish
Kink hair & a wide nose / that's gotta be black, jewish
He said look in the mirror / naked / if it ain't black—jewish
If we don't do it to ourselves / first / then they do it to us
Said he loves countin' stacks / is that black? / jewish?
Said we loves eating chicken cause we black-jewish!
Said, you gotta keep it real / listen to black music
If you wanna keep your teeth / you ain't allowed to act jewish
And that's jewish / Night of the broken glass jewish
They'll beat your face in with a bat / until it's black. jewish
They raped your great grandma, and that's a fact, jewish
Say a prayer for the secrets your family keeps, Kaddish
See Aaron, you run / but I learned to attack: jewish
In order to survive, you gotta be black, stupid
Let 'em tattoo my arm, that's how I act Jewish
That's how I be black / but that's not what you did
Got yourself a "good job," where nobody's black / jewish
Cut the slang off your tongue / it's too black; jewish
And, you never came home / Aaron / where it's black-jewish
And not coming home / is black
jewish

Ghazal for my sister by Angel Nafis
a little darker than me/ love by the mass sister
pale birthmark on your neck/ with so much sass sister
almost my reflection/ through mirrored glass sister
heels & creased pants/ on the go/ niggas harass my sister
twin bodies/ forked path/ a year estranged/ alas sister
my world is hers if she knew she my last sister
worth unmeasured/ though neither of us can pass sister
white boyfriend curse between your eyes/ but you got class sister
I hold my breath & tongue
pretend I don't see, "Sonny's Girl"
tattooed on your ass sister
he cleans his boots on your dreams/ he is an ass sister
(the) black freckle on your nose/ could teach a class sister
I'ma miss you when I go
but return
religious
like mass, sister.
Prompt:
Write a ghazal for someone or something in your life that is important to you.