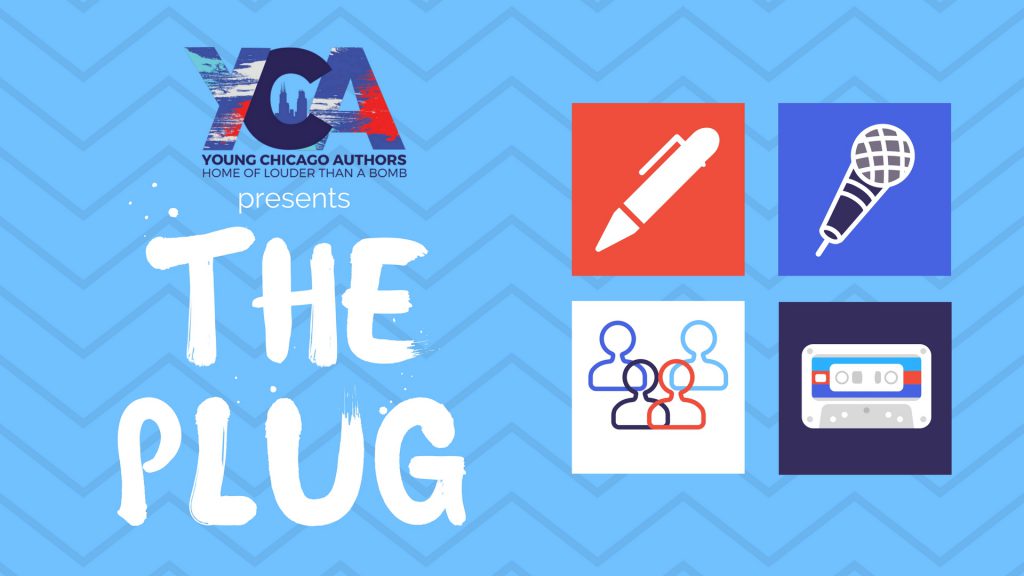 Hello YCA Fam,
Welcome to our newly rebranded Friday blog, The Plug. Here we will be posting weekly about competitions, events, workshops, etc. that you can partake in. Some of these competitions and events are hosted by your next-door neighbors, and some from friends across the country. Many of these opportunities are rooted in poetry and others will allow you to explore different types of writing and art forms. If you explore any of these opportunities, share the experience on social media and tag us (@youngchiauthors on Twitter & @youngchicagoauthors on Instagram).
Competitions/Publications:
Youth Speaks– I Want To Live
"Across the United States, young men of color are often presented by the media – and perceived by the public, the police and law enforcement – as threatening, dangerous, and criminal. This puts them in life-threatening situations. YOUTH SPEAKS is calling for young men of color to share their experiences of being profiled and/or brutalized. Ultimately, we want to show the pervasiveness of this epidemic through the thousands of stories young men will tell. In the face of reckless disregard for the lives of young people, I Want To Live calls for an end to dehumanizing men of color. Share your story. Be a part of the solution."
Entry Fee: None
Deadline: None
Links: http://youthspeaks.org/iwanttolive/
http://youthspeaks.org/iwanttolive/poem-submission/
Be A Hero Contest
"At this precarious time in the United States, we need people to be heroes. This isn't a battle between Republicans and Democrats. This is a battle between right and wrong. And we need heroes who are willing to fight for what is right—across this country and around the world. In that spirit, we invite you to write a story about a hero in 50 words or fewer. (You can use a title, if you choose, which doesn't go into the word count.) It should be about someone who fought for the right thing in a way that called for courage and commitment. This can be a personal story about, say, your father rescuing you when you were lost in the woods, or a public story about, say, Rosa Parks not moving to the back of the bus. It could also be a made-up story, even an artful retelling of a favorite, such as Erin Brockovich or A Tale of Two Cities. We will send the winning entry to each of the 100 U.S. senators and the 435 members of the House of Representatives, along with an entreaty for them to be heroes, protecting our country by standing up for what is obviously right, despite any political risk."
Entry Fee: None
Deadline: Monday, May 29th, 2017
Links:https://www.writingclasses.com/contest/be-a-hero-contest-2017
Polyphony H.S.
"Polyphony H.S. is an international student-run literary magazine for high-school writers. Our title is a combination of the Greek term meaning many voices, and the abbreviation for High School. Polyphony H.S. is published annually in August. We offer three awards for excellence in writing through the Claudia Ann Seaman Awards, one each in poetry, fiction, and literary non-fiction."
Entry Fee: None
Deadline: Tuesday, May 30th, 2017
Links:http://polyphonyhs.com/submit/
One Teen Story
"We're excited to announce our newest One Teen Story Contest! Now through May 31st, 2017, we're asking writers ages 13-19 to enter their original, unpublished fiction. We are interested in great short stories of any genre—literary, fantasy, sci-fi, love stories, and horror. What's in a great short story? Interesting characters, a unique voice, strong writing, and a beginning, middle and end. The winning story will be published in a forthcoming issue of One Teen Story, which will reach over ten thousand readers. The contest winner will receive $500 and 25 copies of the magazine featuring their work. The contest winner will also have the opportunity to work with a One Teen Story editor prior to publication. Honorable mentions will be chosen in three age categories: 13-15, 16-17, and 18-19 year-olds, and each will be announced on our website, email announcement, and social media."
Entry Fee: None
Deadline: Wednesday, May 31st, 2017
Links: https://www.one-story.com/submissions_ots/
Jamila Woods and Chance the Rapper's Video Treatment Contest
"The annual story contest for 2017 runs from January 1 to June 1, 2017! Anyone can enter – and anyone can win! Send in your short story in mystery, suspense, or thriller style. Entries may be up to 2500 words (about 10 double-spaced pages). It's loads of fun and a good exercise of your writing skills."
Entry Fee: None
Deadline: Friday, June 2nd, 2017
Links: ../../18623570_1694223633951641_7404508371852311440_o.jpg
http://www.chicagotribune.com/entertainment/ct–chance-the-rapper-jamila-woods-music-video-story.html
https://www.youtube.com/watch?v=jgkPhbi9-5w
IUPUI Poetry Contest (Indiana Residents Only)
"The IUPUI Office of Academic Affairs, the IU School of Liberal Arts at IUPUI, and the IUPUI Department of English invite all high school age students within the state of Indiana to participate in the IUPUI Poetry Contest. The deadline for the 2017 contest is 11:59 p.m. EST on Thursday, June 15. First, second, and third-place winners will receive a monetary award, publication of their poem on our website, and are eligible to receive a $1500 scholarship upon enrollment at IUPUI. Students receiving honorable mentions will receive a book by one of our judges and publication on our site. All poetry contest applicants may receive additional scholarships upon being admitted to IUPUI based upon their academic and financial aid qualifications."
Entry Fee: None
Deadline: Monday, June 15th, 2017
Links: https://poetry.iupui.edu/
Rattle Young Poets Anthology Guidelines
"Way back in 1998, Rattle published an issue featuring poems written by children. Unfortunately it is now out of print. Starting in 2013, we've extended that idea, and began publishing an annual anthology of young poets. The books are available in print, and all of the poems appear as daily content on this website on Saturdays throughout the year. Every poet contributing receives two free print copies."
Entry Fee: Free
Deadline: Monday, June 15th, 2017
Links: http://www.rattle.com/children/guidelines/
http://www.rattle.com/children/rypa/
Brave New Schools Competition
"Submit original videos with poems/raps/stories (up to 3 minutes) that ReThink the Brave New Schools of our future (Must be 13-24 years old as of May 8, 2017, to enter). Entry is subject to full competition terms and conditions, posted on the challenge site."
Entry Fee: Free
Deadline: Monday, June 15th, 2017
Links: http://bravenewschools.org/
Upcoming Classes:
SheCrew- Annual Summer Intensive
"[A] 6-week journaling to performance summer program for girls in Chicago ages 12-14. {she crew}'s multidisciplinary curriculum involves: creative journal writing, theatrical movement, voice & speech classes, professional workshops, improvisation, theatre games, nutritious cooking and shared meals to create community and generate new artistic works."
Start Date: Undisclosed
Location: 800 S Halsted St, Chicago, IL 60607
Links: https://www.shecrew.org/apply-for-she-crew-2014
StoryStudio Chicago- Writing Our Resistance
"This 4-week workshop taught by award-winning poet Hannah Gamble (YOUR INVITATION TO A MODEST BREAKFAST) focuses on resistance and protest writing, and is open to writers of poetry as well as essays and memoir."
Start Date: Wednesday, May 31st, 6:30pm–9pm
Location: 4043 N Ravenswood Ave, #222 Chicago, IL 60613
Links: https://www.storystudiochicago.com/product/writing-our-resistance/
Writing & Thinking Workshop (Rolling Admission)
"Supportive faculty work with students in small groups to help them develop confidence in their voices as writers. Participants learn strategies to generate fresh and compelling ideas, the kind of well-reasoned ideas first-rate colleges and universities expect from their students. Trips to Chicago's museums and cultural events offer additional inspiration. You'll grow in ways that you can now only imagine."
Start Date: Sunday, June 25th, 2017
Location: 555 North Sheridan Road Lake Forest, IL 60045
Links: http://www.lakeforest.edu/academics/summer/community/wtw/
Write To The City (Rolling Admission, First Come, First Serve)
"Over one hundred young writers from all corners of the city and across the country come together for one week of nonstop art. Students take daily field trips within Chicago's arts scene and rich cultural landscape, exploring visual, performance, and literary arts, building community, and developing a body of work through workshops led by world-class poets and artists. WTTC is a fee-based program, with scholarships available to qualifying students."
Start Date: Monday, July 10th, 2017
Location: 400 S Peoria St, Chicago, IL 60607
Links: https://youngchicagoauthors.org/programs/summer/write-to-the-city
https://docs.google.com/forms/d/e/1FAIpQLSc1XPEssytKR3VK1Fs5mHM0pBMzvOr4R-79D9iRtT8u4j3H3w/viewform
Events:
Wordplay
"WordPlay is the longest-running youth open mic in Chicago. Every Tuesday night, poets aged 12-25 come through Young Chicago Authors to participate in a writing workshop, perform their original work, and listen to music and poetry by artists of all genre and skill level."
Event Date: Every Tuesday starting at 6:00pm
Entry Fee: None
Location: 1180 N. Milwaukee #2 / Chicago, IL 60642
Links:http://youngchicagoauthors.org/programs/open-mics/wordplay
In One Ear 18+ (Unless accompanied by a parent/guardian)
"Pete Wolf! Billy Tuggle! Every Wednesday night at 9!
FREE PARKING AT CHURCH LOT, Morse and Ashland, till 3am
Morse stop on the Red-line, North Exit (Lunt Ave.) Very inviting and supportive mix of folks of all ages, skill sets, and walks of life coming together to share out arts, moods, comedies and stories. Come and Join our family!"
Event Date: Every Wednesday starting at 9:00pm
Entry Fee: $3
Location: 7000 N Glenwood Ave Chicago, IL 60626
Links:https://www.facebook.com/pg/inoneearchicago/about/?ref=page_internal
My Mother Was a Freedom Fighter / Aja Monet Book Launch
"Join Aja and special guests for an evening of readings to celebrate the launch of her new collection. Light refreshments provided."
Event Date: Monday, May 29th at 9:00pm
Location: 7000 N Glenwood Ave Chicago, IL 60626
Links:https://www.facebook.com/events/400883296962746/
https://www.eventbrite.com/e/my-mother-was-a-freedom-fighter-poetry-book-release-reading-by-aja-monet-tickets-34810217297
Angela Jackson– A Surprised Queenhood
"Join us for a retrospective discussion on the cultural and political force of Pulitzer Prize–winning poet Gwendolyn Brooks, in celebration of her one hundredth birthday with Angela Jackson."
Event Date: Tuesday, May 30th, 7:00pm–9:00pm
Location: 2233 S Throop St #214 Chicago, IL 60608
Links: https://voices.uchicago.edu/brooks100/2016/11/29/angela-jackson-a-surprised-queenhood/
https://www.semcoop.com/event/angela-jackson-surprised-queenhood
Forms and Features at Gallery 400: Ecopoetry
"Join us for a poetry discussion and creative writing workshop in conversation with the artworks in The Earth Will Not Abide. Led by Poetry Foundation Library Coordinator Maggie Queeney, participants will read and discuss a wide range of ecopoems, a species of nature poetry that explores the interactions and intersections between culture, social justice, and the environment. After engaging with the exhibition, participants will be guided through composing original ecopoems. All experience levels are welcome."
Event Date: Wednesday, May 31st, 6:00pm–8:00pm
Location: 400 S Peoria St, Chicago, IL 60607
Links: https://www.poetryfoundation.org/programs/events/detail/141782
More Than A Mic Open Mic
"Speak your mind at this spoken-word freestyle open mic hosted by More Than a Month. Your voice is your power! Featuring Chicago artist Alanis Gonzalez"
Event Date: Wednesday, May 31st, 5:00pm–7:00pm
Location: 834 Lake St, Oak Park, IL 60301
Links: http://oppl.evanced.info/signup/EventDetails?EventId=32250&lib=0%2C1%2C2%2C7%2C1003&backTo=Week&startDate=2017/06/01
Telling Our Stories Workshop
"We all have a story to tell. From the oral tradition of the West African griot, to sharing our experiences, to dreams of tomorrow, storytelling is universal in every culture. This FREE "Telling Your Stories Workshop" for youth and adults will help you capture your story."
Event Date: Saturday, June 3rd, 10:30pm–2:30pm
Location: 8100 S Calumet Avenue Chicago, IL 60619
Links: https://www.eventbrite.com/e/telling-our-stories-workshop-tickets-33964932026?aff=erelexpmlt
Young, Latinx & Proud: Latinx Uniting for Real Justice
"Calling all our Latinx peoples! Young, Latinx & Proud (YLP) is hosting a gathering of Latinxs to build a Latinx platform for real justice and radical transformation. Come through! No more waiting…now we act. No more division…now we unite. No more dreaming of change…now we make it happen. No more trusting politicians to represent us…now we represent ourselves! No activism/organizing experience necessary (our experiences as Latinxs are enough). Bring yourself, your vision, your pride, your frustrations, your joy, your love, your ways of resisting, your friends, your fam, your neighbors. We highly encourage all ages to come, as one of our goals is to build love and solidarity across all ages in our Latinx communities. Not invited: racism, sexism, homophobia, transphobia, xenophobia, and any behavior that disrupts productive and consensual dialogue."
Event Date: Saturday, June 3rd, 1:00pm–2:30pm
Location: 805 S Loomis St, Chicago, IL 60608
Links: https://www.facebook.com/events/1427331240657861/
https://www.facebook.com/YLPChicago/
@Will: A Short Play Festival
"The Commission Theatre Company presents @Will: A Short Play Festival In response to Shakespeare's line, "no woman shall come within a mile of my court," six incredibly talented playwrights have created fresh and engaging new works that explore the nuance and complexity of modern womanhood."
Event Date: Saturday, June 3rd through Monday, June 3rd
Location: 8100 S Calumet Avenue Chicago, IL 60619
Links: https://www.facebook.com/events/1788588261386584/
We Real Cool: A Celebration of Gwendolyn Brooks's 100th Birthday
"Join us for the premiere of Manual Cinema's video honoring Gwendolyn Brooks, who was born one hundred years ago on June 7, 1917. Using simple, illuminative paper-cut puppetry, this enchanting video imagines the moment of witness that inspired Brooks to write her landmark poem, "We Real Cool." Created by Manual Cinema in association with Crescendo Literary with music by Jamila Woods and Ayanna Woods."
Event Date: Tuesday, June 6th starting at 6:30pm
Location: 1852 W 19th St, Chicago, IL 60608
Links: https://www.facebook.com/events/1312036918916450/
https://www.poetryfoundation.org/programs/events/detail/142198?utm_source=facebook&utm_medium=social_media&utm_campaign=event
BrooksDay@Nite
"BrooksDay is a celebration of Gwendolyn Brooks that takes place on the anniversary of her birth, June 7th. Each year you can join us for BrooksDay, celebrating the works of Gwendolyn Brooks on her birthday! Each year we honor her legacy as an artist and an iconic figure of generosity and civic conscience in Chicago and in the nation. And 2017 will be all the more spectacular with the City of Chicago and its myriad arts organizations celebrating Brooks during the 2017 centennial. BrooksDay is the marquee event for these celebrations –an evening of Gwendolyn Brooks on her 100th birthday."
Event Date: Wednesday, June 7th starting at 5:30pm
Entry Fee: $35-$45
Location: 915 East 60th Street Chicago, IL 60637
Links: https://voices.uchicago.edu/brooks100/2016/11/28/brooksdaynite/ https://www.eventbrite.com/e/brooksdaynite-tickets-31519775497
Job & Internship Opportunities:
CSBG Scholarship Program
Deadline: Friday, June 9th, 2017
Links: https://www.cityofchicago.org/city/en/depts/fss.html
The Queens of the Castro 2017 for Chicago and NYC Scholarship
"All 16-25-year-olds in Chicago and NYC who identify with the LGBTQ+ community can apply for $1000."
Deadline: Thursday, June 15th, 2017
Links:http://queensofthecastro.com/scholarships