---
Why do you love teaching, poetry, or performance?
I believe in education as a practice of liberation. And I believe in poetry as a practice of letting the intuitive leaps of our imagination take back the reigns of control from logic or rationality. Whether in my creative practices or teaching practice (are they really that different?), I find joy in experimentation, irreverence and play. This joy is the most sustainable fuel to feed the fires of collective liberation. Holding space for it in myself is simply a must. But holding space for it with others is both an honor and a blessing.
---
Artist Statement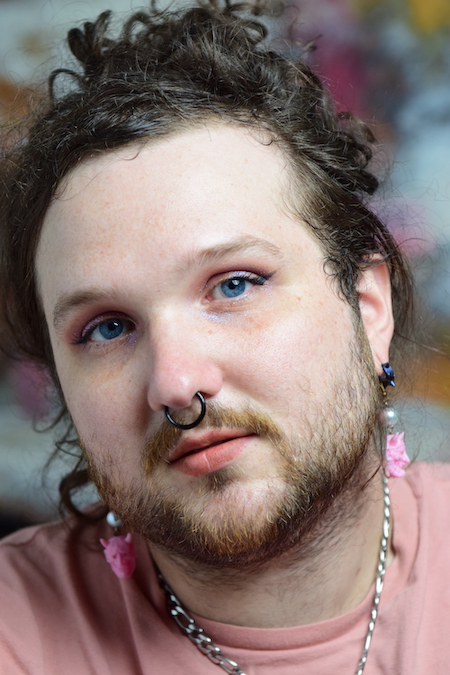 My writing unfolds to meet the world as it is, ask what it was and imagine what it could become. I am committed to writing as a lifelong practice of collective accumulation & repair.
My interdisciplinary practice is rooted in poetry and wrestles through the mud with themes of whiteness, trans embodiment, ecology and control. Influenced by artists and writers such as Genesis P-Orridge & M. NourbeSe Philip, I utilize intuitive research & collage which demand I give myself over to the world exactly as I sit in it, find light in my immediate surroundings and ask the pen to be a listening organ.
I believe art or writing cannot do anything the artist or writer isn't willing to do every moment of every day. I believe a creative practice to be a knotted limb outstretched from a core practice of being. If I wish to write liberation, I must remember to breathe liberation. If I wish to create belonging, I must remember to walk belonging.
I am growing into a vine so rooted in presence that my breath becomes a bridge for the future to touch the past.
& I give myself permission to fail. Fabulously.
You can find more information about Robin Reid Drake at:
---
Achievements
Ragdale Foundation; Lake Forest, IL
Writer in Residence; 2019
Windy City Times' 30 Under 30; Chicago, IL
Awardee; 2019
Lacawac Sanctuary; Lake Ariel, PA
Writer in Residence, LGBTQ Artists Residency; 2018
New Artists Society Scholarship, School of the Art Institute of Chicago; Chicago, IL
Recipient; 2016
Carl Sandburg Poetry Prize, University of North Carolina at Asheville; Asheville, NC
Awardee; 2014
Comfort Scholarship for Excellence in Writing, UNC at Asheville; Asheville, NC
Recipient; 2013

---

Writing Workshops

10/21/2022  "Slowing Down Into Trust"

For more visit the artist's Stay Making page

---

Curriculum Example

My Body, A Bridge:
a somatic abolitionist writers workshop

co-facilitated with Chima "Naira" Ikoro

A somatic abolitionist writers workshop uses this embodied practice, a culturally responsive and socially critical form of meditation and mindfulness, as a path of entry to a writing practice. Both writing and meditation call for the cultivation of a deep and ongoing relationship with one's inner life in order to navigate and affect the outer world we live in. This workshop will pair mindfulness exercises with writing activities to unite body, mind and voice and support its participants in building "right relationship," or the idea of an inherent interconnectedness of all beings and the earth, a core tenant in spiritual, wisdom & liberation traditions across the world.