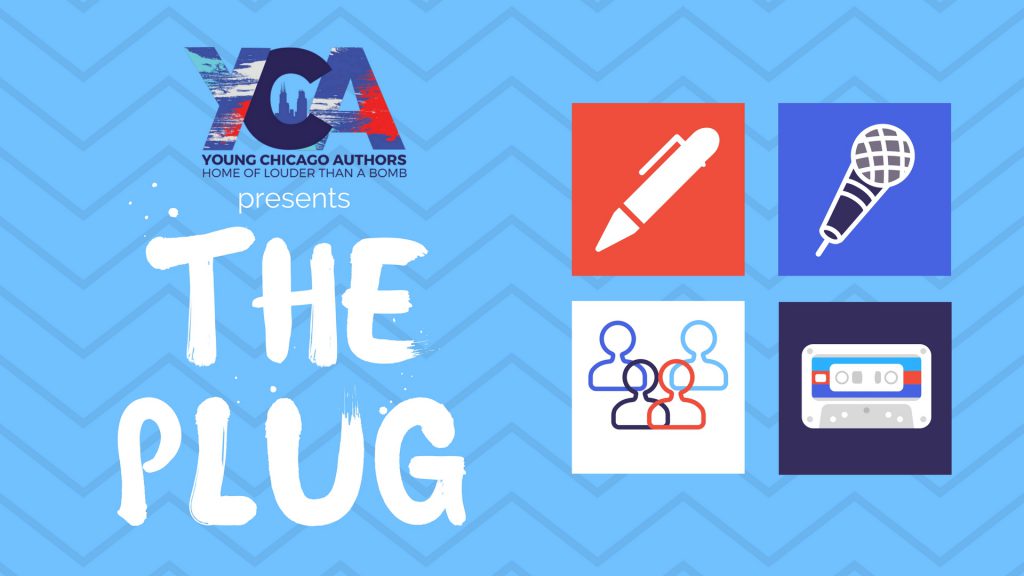 Hello YCA Fam,
Welcome to The Plug, our weekly blog about competitions, events, workshops, etc. that you can partake in. Some of these competitions and events are hosted by your next-door neighbors, and some are from friends across the country. Many of these opportunities while rooted in poetry, will also allow you to explore different types of writing and art forms. If you explore any of these opportunities, share the experience on social media and tag us (@youngchiauthors on Twitter & @youngchicagoauthorson Instagram).
Youth Poetry/Writing Publishing Opportunities:
International magazine for youth writers and artists. Submissions open April 15 to May 15 2018. Contest submissions open January 15 to March 15 2019. All entrants receive a one-year subscription to tCR. All winners and honourable mentions will be published in the fall issue of tCR. All contest entries will be considered for publication regardless of contest results.
Youth artists magazine. Submission link: http://www.rookiemag.com/submit/
3. Teen Ink: http://www.teenink.com/
http://www.teenink.com/submit
4.Canvas: https://www.canvasliteraryjournal.com/
Currently updating the website, but submissions are open for the upcoming issue
5.Polyphony H.S.: http://polyphonyhs.com/
A high-school based website for teen artists, writers, and poets
6.The Adroit Journal: http://www.theadroitjournal.org/general-submissions/
A print literary publication offering young writers from around the world the chance to submit work for publication alongside established adult writers. Young writers in high school or college can also participate in the editing process as part of the journal's staff of readers and editors.
Events
People of Culture-
When: Sun, August 26, 2018 → 4:00 PM – 9:00 PM CDT
Where: DuSable Museum of African American History 740 E 56th Pl Chicago, IL 60637
https://www.eventbrite.com/e/people-of-culture-tickets-46501853295?aff=ebdssbdestsearch
People of Culture is about rewriting the African narrative through fashion, lifestyle, music, dance, poetry and art. Come witness the very best onstage African Hip hop, dance, poetry, music, fashion, comedy arts & craft. This annual event draws individuals from Ghana, Nigeria, Senegal, Togo, The Caribbean, Eritrea, Kenya, and other parts of Africa and its diaspora.
29Rooms-
When: Thu, July 26, 2018 → 11:00 AM – 10:00 PM
Where: 1522 West Hubbard Street Chicago, IL 60642
https://www.eventbrite.com/e/29rooms-chicago-tickets-44162809151?aff=ebdssbdestsearch
Experience Refinery29's imaginative spirit IRL through an interactive funhouse of style, culture, and creativity brought to life by a group of global artists and visionaries across mediums and powered by you. Come create, play, and explore this sensory playground. Make your way through each of the 29 individually curated rooms packed with magic and brimming with inspiration.
A F.I.E.R.C.E Day in the Neighborhood-
When: Sun, July 29, 2018 → 7:30 PM – 9:30 PM CDT
Where: The Maiden Voyage Cafe 1636 West Montrose Avenue Chicago, IL 60613
https://www.eventbrite.com/e/a-fierce-day-in-the-neighborhood-tickets-47308225175?aff=ebdssbdestsearch
F.I.E.R.C.E. Theatre Collective proudly presents an intimate evening of art, performance, and enlightening conversation! We have partnered with our friends at Intergalactic Cafes, Inc. to create an evening dedicated to celebrating gender, humanity, and all the things that connect us. Featuring music, theatre, poetry, and visual works, we will explore these ideas, as well as what it means to be FIERCE.
Wordplay
"Wordplay is the longest-running youth open mic in Chicago. Every Tuesday night, poets aged 12-25 come through Young Chicago Authors to participate in a writing workshop, perform their original work, and listen to music and poetry by artists of all genre and skill level."
When: Every Tuesday starting at 6:00pm
Entry Fee: None
Where: 1180 N Milwaukee Ave, #2 / Chicago, IL 60642
Links: https://youngchicagoauthors.org/programs/open-mics/wordplay
Write to the City
Over one hundred young writers from all corners of the city and across the country come together for one week of nonstop art. Students take daily field trips within Chicago's arts scene and rich cultural landscape, exploring visual, performance, and literary arts, building community, and developing a body of work through workshops led by world-class poets and artists. WTTC is a fee-based program. Write To The City will take place from July 23-27, 2018 at the UIC School of Art & Art History.
https://youngchicagoauthors.org/event-registration/write-to-the-city
Internship/Job Opportunities
GoPride Corp.-Chicago→ Social Media/Communications Internship
GoPride Corp. is an organization that seeks to connect, challenge and inspire people and to promote opportunities that make a difference in the lives of LGBT individuals, entities and communities nationwide.
Application Deadline: July 19, 2018
Position: 2 Part-time, Unpaid
Requirements: Students applying for this internship should be enthusiastic learners who can work approximately 10-15 hours a week, who enjoy working with social media (or the publishing industry), and who are able to work an 8-12 week internship program. We are willing to work with any level college student.
e.http://www.internships.com/social-media/social-media-and-communications-internship-i1442422
Poetry Foundation Events Intern
The Poetry Foundation, publisher of Poetry magazine, is an independent literary organization committed to a vigorous presence for poetry in our society. It exists to discover and celebrate the best poetry and to place it before the largest possible audience. The Foundation seeks to be a leader in shaping a receptive climate for poetry by developing new audiences, creating new avenues for delivery, and encouraging new kinds of poetry.
Deadline for Applications: 07/31/2018
Job Description: The Poetry Foundation seeks an intern to assist with public programs and events at the Foundation. This is a paid internship. The Events Intern will assist in all aspects of program and event coordination with a primary focus on day-of-event tasks. Under the supervision of the Events and Logistics Coordinator, the intern will primarily work in the areas of guest relations and AV/tech support.
Hours: Variable; up to 15 hours a week
Requirements: The ideal candidate excels in the following areas:
•Strong interest in public programming for the arts
•Enthusiasm for working with others, outstanding customer service skills and the ability to think critically under pressure
•Experience with audio recording and basic A/V knowledge are strongly desired
f.Application: Interested applicants should send a cover letter, a CV or résumé, and a list of 2-3 references. Please send all attachments as a DOC, DOCX, or PDF document with subject line: Logistics Intern.
(PRO)jectUS
"(PRO)ject US is an initiative for young adults between the ages of 13 – 23 designed to build fashion design, music production, and new media journalism skills. Adding value to the skills learned by curating artifacts created & knowledge gained in a comprehensive portfolio. Making that portfolio actionable with industry-centered special opportunities."
Links: http://www.pro-jectus.org/
Mental Health Resources