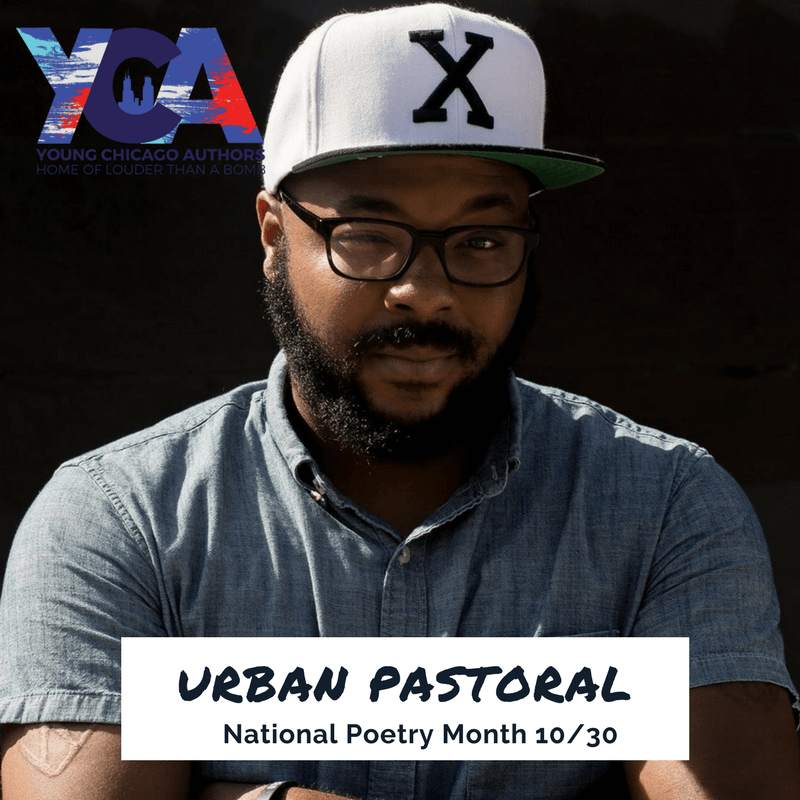 Hello YCA Fam,
April is National Poetry Month, and many poets choose to write one poem each day during April to celebrate the occasion. This year, we are going to be posting a writing prompt every day during April to help you with this writing challenge. Many of these prompts were developed by the YCA Artistic team for our weekly writing workshop, Check The Method. If you write poems to these prompts, share them on social media and tag us (@youngchiauthors on Twitter & @youngchicagoauthors on Instagram).
Here is prompt number 13, which uses a poem by Nate Marshall:
Note:
Pastoral poetry was traditionally intended to idealize the "innocence and simplicity" of rural life and natural landscapes, in contrast to the "corruption and evils" of city life. Nate Marshall's work attempts to flip the pastoral tradition on its head by illustrating portraits of Chicago's South Side.
"…my book employs a 'hood pastoral' aesthetic to re-establish the urban landscape as one capable of the greatest beauty…" – Nate Marshall
Names of places in or around your neighborhood (excluding your home) that you visit at least once a week
Places you are excited to go to (past present future)
Places you hold in your memory
Places in Chicago/city of your choice you are fascinated by or really love
Places you remember or are familiar with that are problematic
Candy Store by Nate Marshall (from Wild Hundreds)
on the front porch
or in a basement kitchen
a sour pickle
fat as a child's forearm
with a peppermint stick
stuffed in the middle
sits inside a jar.
plastic sandwich bag jammed
with Frooties or Tootsies.
past-prime Sour Patch Kids
or fruit chews sticky &
stubborn to the chew.
a piece of hard candy
on a ring & wrapped
in plastic ready to hand
to that neighbor's cousin
with the light eyes &
white teeth.
salt & sour chips
or the dill flavor
in the bright green bag.
fluorescent barrel juices
With foil tops.
Flamin' Hot Cheetos
turn tongues & fingers
Michael Jordan jersey
red for the rest of the day.
2 crock pots:
orange-yellow bubble of cheese sauce,
dirt brown of ground beef
ready for heat.
Fame Food and Liquor by Nate Marshall (from Wild Hundreds)
we cut down 115th street for a quicker stroll
past the pastor's house, vacant lot, liquor store.
buses pointing out the hood & back. the route
every morning goes by the liquor store.
the loose Philly blunts and hard & dry. the sour mouth
washed away by a dull gulp of liquor. store
a honey bun in your fat back pocket. pray
nobody notices your awkward walk. this liquor store
sees stumbling often. out front the garish stickers fluoresce
on the wire windows like winos with liquor store
bottles. a small weapon sits behind the counter hidden by the cigarettes
& candy small enough to steal. when the liquor store
is locked up the rolling metals make the window
a pastoral, part of our natural habitat. behold the liquor store:
the sugar waters, the Ziploc bag of coins
& Nate's tongue the color of loose pennies in the liquor store
Writing prompt:
Write a pastoral poem describing one of the places from your list.