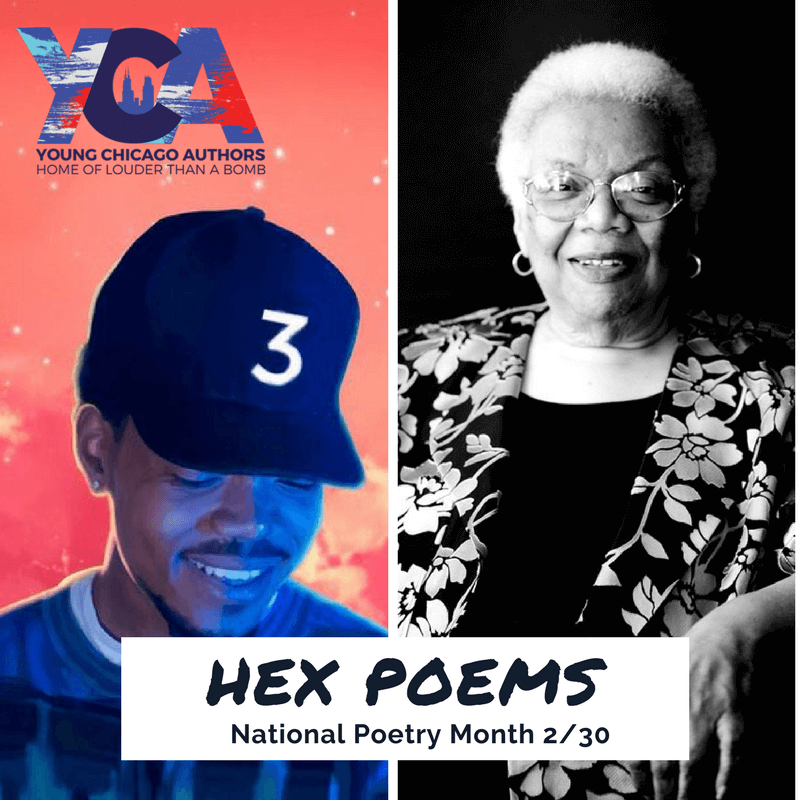 Hello YCA Fam,
April is National Poetry Month, and many poets choose to write one poem each day during April to celebrate the occasion. This year, we are going to be posting a writing prompt every day during April to help you with this writing challenge. Many of these prompts were developed by the YCA Artistic team for our weekly writing workshop, Check The Method. If you write poems to these prompts, share them on social media and tag us (@youngchiauthors on Twitter & @youngchicagoauthors on Instagram).
Here is prompt number 2, which uses a poem by Lucille Clifton and a verse from Chance The Rapper.
List:
People you've had an argument/disagreement with over the last year
Famous people you don't mess with
People you feel are the opposite of you
Foods you find disgusting and horrific
Names of people you would like to like you more
Names of people who you feel misunderstand you
Annoying things/pet peeves that happen to you
Read:
wishes for sons by Lucille Clifton
i wish them cramps.
i wish them a strange town
and the last tampon.
I wish them no 7-11.
i wish them one week early
and wearing a white skirt.
i wish them one week late.
later i wish them hot flashes
and clots like you
wouldn't believe. let the
flashes come when they
meet someone special.
let the clots come
when they want to.
let them think they have accepted
arrogance in the universe,
then bring them to gynecologists
not unlike themselves.
Listen:
Chance's verse in Baby Blue by Action Bronson
Prompt:
Using items from your list for inspiration, write a spell/curse for someone/something from your list.