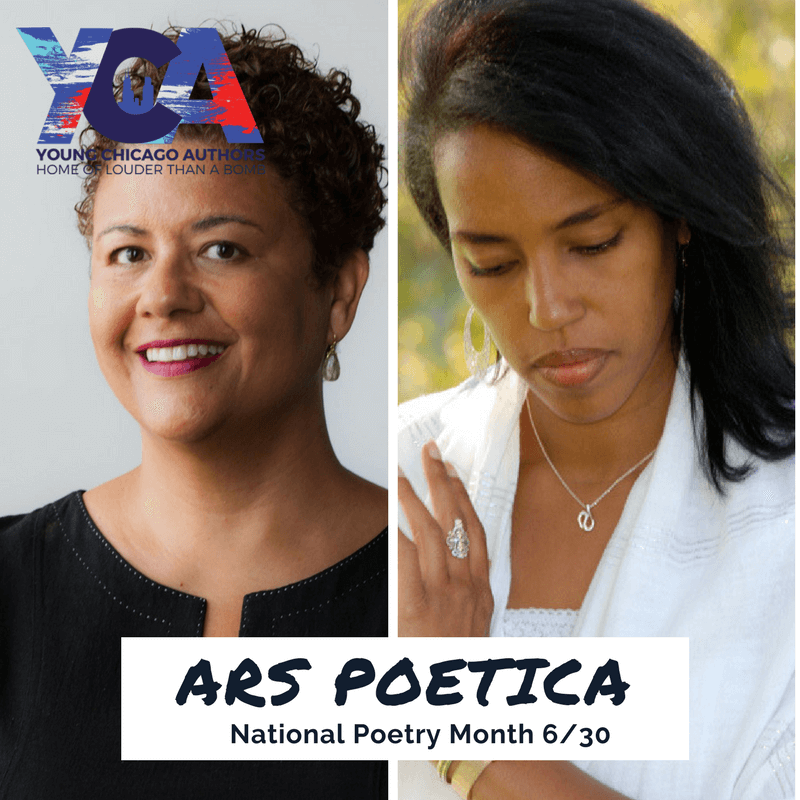 Hello YCA Fam,
April is National Poetry Month, and many poets choose to write one poem each day during April to celebrate the occasion. This year, we are going to be posting a writing prompt every day during April to help you with this writing challenge. Many of these prompts were developed by the YCA Artistic team for our weekly writing workshop, Check The Method. If you write poems to these prompts, share them on social media and tag us (@youngchiauthors on Twitter & @youngchicagoauthors on Instagram).
Here is prompt number 6, which uses poems by Ruth Forman & Elizabeth Alexander.
Note:
The poems today are called Ars Poetica. An Ars Poetica is a meditation on poetry.
List:
Questions you attempt to answer in your poems
People you hear in your head when you write
People you want to read your poems
Places you want to share your poems
Locations that inspire you to write
How your poems would dress if they were people
Read:
Poetry Should Ride the Bus by Ruth Forman
poetry should hopscotch in a polka dot dress
wheel cartwheels
n hold your hand
when you walk past the yellow crack house
poetry should wear bright red lipstick
n practice kisses in the mirror
for all the fine young men with fades
shootin craps around the corner
poetry should dress in fine plum linen suits
n not be so educated that it don't stop in
every now n then to sit on the porch
and talk about the comins and goins of the world
poetry should ride the bus
in a fat woman's Safeway bag
between the greens n chicken wings
to be served with tuesday's dinner
poetry should drop by a sweet potato pie
ask about the grandchildren
n sit through a whole photo album
on an orange plastic covered lazyboy with no place to go
poetry should sing red revolution love songs
that massage your scalp
and bring hope to your blood
when you think you're too old to fight
yeah
poetry should whisper electric blue magic
all the years of your life
never forgettin to look you in the soul
every once in a while
n smile
Ars Poetica #100: I Believe
Poetry, I tell my students,
is idiosyncratic. Poetry
is where we are ourselves
(though Sterling Brown said
"Every 'I' is a dramatic 'I'"),
digging in the clam flats
for the shell that snaps,
emptying the proverbial pocketbook.
Poetry is what you find
in the dirt in the corner,
overhear on the bus, God
in the details, the only way
to get from here to there.
Poetry (and now my voice is rising)
is not all love, love, love,
and I'm sorry the dog died.
Poetry (here I hear myself loudest)
is the human voice,
and are we not of interest to each other?
Prompt:
Write a poem that tells us what poems should do or what poetry is.